Cracked Clients?
Cracked clients work for runecraft (not encouraged) providing the ONLY modification is optifine. Players who use other mods will be permanently banned. The set up should be the same, make sure the cracked client is 1.13.2 or whatever version we are using.
Resource Pack
What is a resource pack?
A resource pack changes the way the game looks. One resource pack could have a cartoonish style, another one could be in black and white. One could change the default torch style into a candle, or even a lightbulb. It also modifies how items or blocks look.
Follow these guides so you see everything as it is intended. If you are using a different texture pack you will not see the same world. Blocks that are blue on our texture pack may be pink on yours. We also use custom models for economy items,armor, weapons, etc.
Note: Changing resource packs may take a long time even on an amazing computer. Just be patient.
The setup process if done correctly should take no more than 10 minutes. Make sure you download the newest minecraft if you have not already (1.13.2) and run the game past launcher in 1.13.2 at least once, for this to work.
Minecraft download: Minecraft
Conquest (Runecraft version) Resource Pack
Conquest Resource Pack
Download this resource pack and extract (unzip) it into a folder in your resource pack folder (can be found using option button in game). This is unlike other resource packs, it should not be zipped. If you don't know how to unzip (windows), download
7-zip
Unzipping with a mac should be done by double clicking. If it doesn't work, look up how to unzip a file.
It should look like this in the resource pack folder. Make sure you delete the zipped filed after.

Optifine
Optifine is required for the conquest resource pack to work, it also lets you customize your minecraft video settings to make them much better if you have a good computer, or faster if you struggle to run minecraft (doubles FPS), so there's no reason not to have it for any server. Please install it correctly. Download the appropriate (1.13.2 HD) version here: Optifine Install it by executing the .jar file (open with java if it doesn't work with double click). It will then install to your Minecraft folder. Open up Minecraft and in the launch options you will see an optifine 1.13.2 version option. Note: you must have run regular Minecraft 1.13.2 at least once for this to work. Once you load up minecraft you can see all the new settings. **Go to video settings quality and make sure connected textures are on. Go to video setting -> quality and make sure custom items is ON** These are necessary for the server. The Dynamic lights option is also interesting, it makes it so that torches emit light in your hand while you are moving. Look through all the new options and customize it to your liking. Biome blend is also an important option.
----
Runecraft resource pack
The world of runecraft has custom item names, and refers to diamonds (vanilla minecraft) as rune. To see this in game, install the runecraft resource pack. Runecraft pack Unzip into your resource pack folder. Make sure the zip file is deleted after. It should look like this when completed. Make sure the runecraft texture pack is second.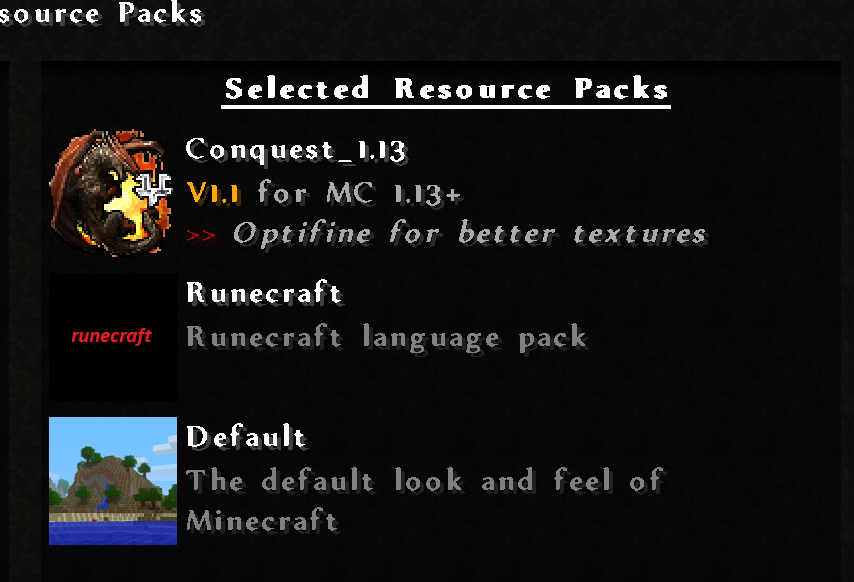 Once this is done, head over to your languages. Click the Runecraft language option next to the other english languages available near the beginning of the list


Shader
Add a shader to your game if you like for a different more high definition lighting with shadows. Not required. Conquest of the sun shader pack: http://www.mediafire.com/file/snymzczby2i1bea/Conquest_Of_The_Sun.zip/fileDownload Here Download this and put it in your shaderpack folder (options, video settings, shaders) Dynamic lights seem to not be working with this shader in 1.13, and the water is a bit broken as well(too transparent at night). Also it may mess with text on signs, you can fix this by turning custom fonts off in options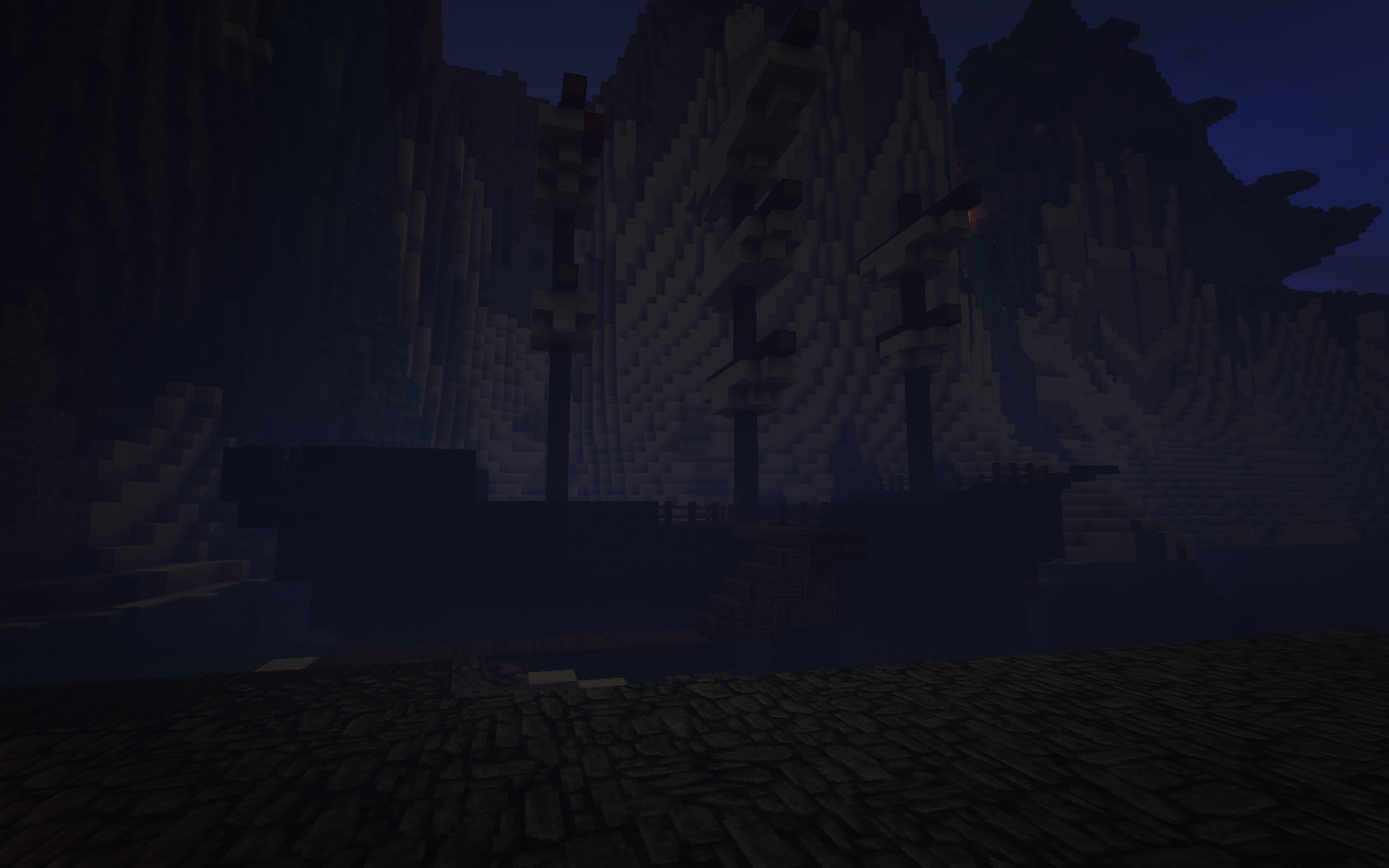 This shader seems to work better, but doesnt look as great as the other one. dynamic lights and everything are working, doesn't look bad. Download Here
For gameplay i recommend using no shader or the conquest shader if you dont need a dynamic torchlight.